Happy Holidays 2013
If you are a fan of winter holiday cheer, you're in luck — December is packed with Christmas, Hanukkah, and winter-y enthusiasm themed theater. Within this narrow category there are some surprisingly diverse options.
Hate the holidays? We've got lots of non-winter-holiday-themed theater recommendations over here.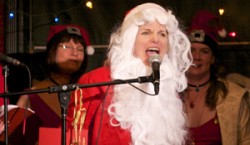 Not to be confused with the WWE 2011 Christmas Smackdown 20-Man Battle Royal, Christmas Smackdown at the The Laurie Beechman Theater is a sarcastic holiday four-person revue from Mark Nutter and Cynthia Carle. It's an annual event in Hollywood and Chicago and this year it is making its New York premiere for just two performances on December 19th and 20th. Reviews of past productions are genuinely glowing, the Chicago Tribune called it "a hilarious and lightly warped version of one of those old TV holiday specials."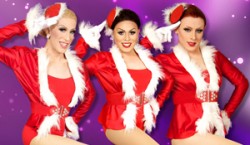 T'is the season to be jolly and glamorous drag queen Dallas DuBois will make it so. Distorted Kristmess is the latest installment in a series of shows by DuBois and her friends. In this Christmas-themed special "all of your holiday favorites are run past a dirty funhouse mirror."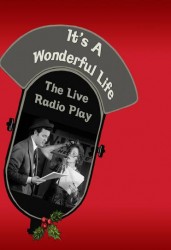 The Frank Capra 1946 film we all know and love has been a part of the Christmas TV tradition for who knows how long, but now The Irish Repertory Theatre is establishing a new one. It is the second year in which they stage It's a Wonderful Life: The Live Radio Play, a 1940s-style radio play, complete with contemporary commercials and live sound effects. Six actors swap hats – and voice – to depict George Bailey, Clarence the angel, and the various residents of Bedford Falls, in a heart-warming production.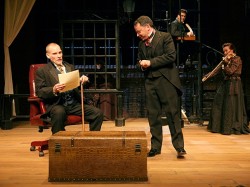 Patrick Barlow, who wrote the Tony Award winning comedy The 39 Steps, now presents an adaptation of Christmas classic Charles Dickens' A Christmas Carol. According to critics Barlow has done right by it: the New York Times put it on their critic's pick list, calling it "imaginative," and the Huffington Post said it is "smartly staged" and a "crisp rendition."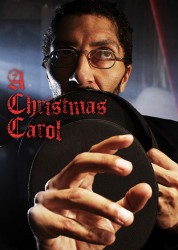 Another version of A Christmas Carol offers a more experimental approach. This adaption from Blessed Unrest, who won an New York Innovative Theater Award this year for Outstanding movement and choreography, focuses on the social criticism central to this tale. Blessed Unrest describes this production as a "raw, physical and darkly funny exploration of Scrooge's secretive past, the troubled present around him, and the tragic future that is coming if he continues to live with his eyes closed."
A Christmas Carol (Summoners Ensemble Theatre's adaptation)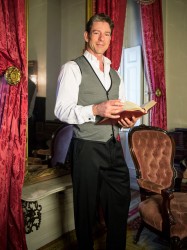 A third Christmas Carol takes place in the Merchant's Home Museum – an old Victorian mansion-turned-museum. John Kevin Jones adapted this version and turned it into a one-man show in which he is playing 20 different characters in the span of one hour, in the form of a Dickensian contemporary reading by the Christmas tree. The original 19th Century museum parlor provides an authentic backdrop, and since it cannot seat many people, TheaterMania – which really liked this production — noted that "considering the intimacy of this production, it is likely that only a few hundred people will get the pleasure of seeing it."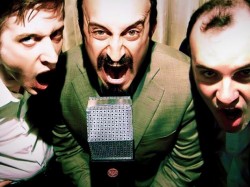 Another take on the Dickensian classic stages the story as a live radio play, 1940s style. In Smith Street Stage's version of A Christmas Carol, seven actors — one of them an 11-year old boy — share a few microphones to recreate the story through their voice alone, sound effects included. The ghost, for instance, will be represented by three men talking simultaneously, to create an extra-creepy effect.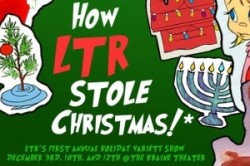 Theater company Less Than Rent's inaugural Christmas special, How LTR Stole Christmas is an original variety show running three consecutive Tuesdays in December. Each night has a different theme, a different host, and a different series of original holiday skits and songs. As with most variety shows, expect variable amounts of quality and lots of fun and charm.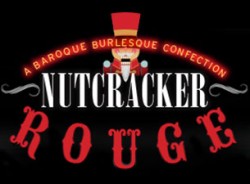 Traditional versions of the Nutcracker ballet runneth over this time of year. As a raunchier alternative, Company XIV presents Nutcracker Rouge,  a sensual baroque-style burlesque production by award-winning choreographer and director Austin McCormick.

A family-friendly show, A Wind in the Willows Christmas is Two River Theater's new, Christmas-themed, take on the old adventures of Mole, Mr. Toad, Rat and the rest of the gang from Kenneth Grahame's classic tale.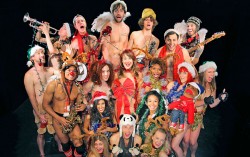 The naked variety show Naked Holidays has become a seasonal tradition, now in its seventh year. Stage and Cinema called it "a delightful burlesque variety show full of dancing, singing, comedy, music, and lots and lots of nudity."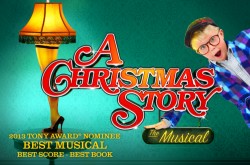 A Christmas Story: The Musical, a stage adaptation of the beloved 1983 film about Ralphie Parker and his odyssey to receive a Red Ryder Rifle for Christmas, is returning to New York for the holiday season after a well-received and Tony Award nominated run last year, starring Dan Lauria and many others from last year's cast.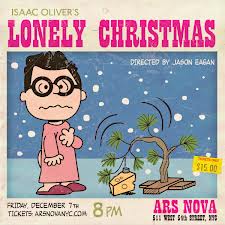 Ars Nova's artist in residence, Isaac Oliver (self described as "gay humorist, pale neurotic"), presents a personal Christmas special that combines holiday cheer with Christmas blues. Isaac Oliver's Lonely Christmas is comprised of funny stories, special guests, games, and live music. It is especially for the single folk.
The Wild Project has three December shows designed to "put the gay in your yuletide": Nicholas Gorham's White Hot Christmas about a recently divorced Hollywood star suffering through the broadcast of his own Christmas Special; The Mad World of Miss Hathaway, an original, musical, holiday-themed parody of the TV show Mad Men; and BUMBUG The Musical, a rock opera adaption of A Christmas Carol that was nominated for a New York Innovative Theater Award for Outstanding Musical last year.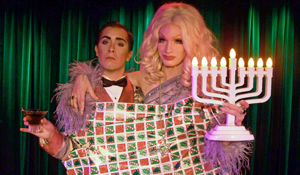 Jinkx Monsoon, winner of season 5 on Rupaul's Drag Race, and her sidekick Major Scales have cooked up a holiday show filled with original songs, covers, and comedy that delivers "a look at the holiday season through the jaded, sassy, somewhat boozy eyes of two bitter queens."
Before compiling this list we had no idea that Christmas-themed drag shows are a holiday tradition. In addition to the shows already mentioned, there are: O Holy Hell (featuring Jackie Beat), Happy Birthday Jesus (featuring Alaska), and A Very Cougar Christmas (featuring Pandora Boxx and Sherry Vine).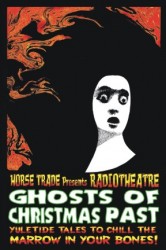 RadioTheatre presents Ghosts of Christmas Past, a storytelling event featuring six supernatural tales set in Manhattan. The event features an orchestral score and sound effects by RadioTheatre's award-winning sound design team.
If none of these meet with your satisfaction, there's always the Radio City Christmas Spectacular with the Rockettes and George Balachine's The Nutcracker by New York City Ballet.
Is your show missing from our list? Email us or tell us about it in the comments and we'll add it.
Happy holidays,
Maxamoo